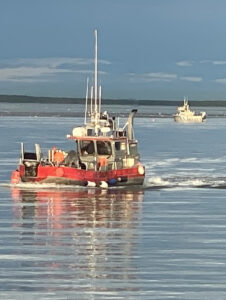 Bishop William Nicholson, Senior Pastor of the Anchorage Moravian Church (AncMC) and Administrator & President of United International Moravian Ministry Group (UIMM) is back in the Church and ministry offices in Anchorage, Alaska as of August 26, 2021.  He thanks all those that prayed for him and his wife, Barabara Nicholson, and other family members during their summer break.
Bishop Nicholson also especially thanks our Summer Administrative Pastor Robert "Bob" Monette for filling in during the summer months, June – August 2021.  Good reports have come back for the fine work that Brother Bob has performed for the AncMC.  Also certainly without the leadership of the AncMC Elders and Trustees there would no continuity.
Annually during the summer months (June through August), the bishop participates in the Bristol Bay commercial salmon fishing industry where he has been a captain and owner of a fishing vessel named "Earl" (photo of F/V Earl taken by Hans Nicholson shown).  This last summer is memorable since out of the 52 plus years as a captain, this last summer was probably the longest lasting stormy and cold commercial fishing season in Bristol Bay.  In spite of this difficulty, it turned out to be a profitable and safe fishing season.
The Anchorage Moravian Church elders and joint board members will be meeting soon after the Labor Day weekend to plan upcoming events.  Questions have risen as to the status of the AncMC building sales.  It is still on hold for some time due to lack of buyer, so until further notice weekly worship meetings will continue at 3512 Robin Street each Sunday, at 2 pm and 6 pm.
Wednesday Night weekly Bible Study begins on September 8, 2021, 6 pm.  This livestreamed event officiated by Bishop Nicholson will be held at 624 W International Airport Road, Suite 200 Conference room, upstairs.
Friday Night Ministry/Singspiration with Pastor Tim Sergie continues each week at 3512 Robin Street.  Singspiration begins at 6 pm.
Sunday School is still on hold until the Elders meet, tentatively on September 7, 2021.
Other concerns follows:
The Robin Street Red Building needs a new roof, so encouragements are there to give for this project which will cost around $10,000.  If anyone wants to donate a donation button is locatable at the bottom the the Church website homepage.
Two Revival Services to be announced and publicized better in the days ahead are with two Pastors from the Indian Reservations of Arizona.  Pastor Carlos Marin will be speaking at the AncMC nightly on September 11-13, 2021, 6 pm.  Pastor Virgina Curtis will be a featured presenter on September 17-19, 2021, same place, same time at the prior week.
The autumn and winter months coming up hold tremendous promise for revival, outreach for Christ, and individual Christian growth and envisioning for service for the Lamb of God.