Though I am gone on Commercial Fishing Leave from Anchorage, Alaska beginning May 24, 2019, United Alaska Moravian Ministry (UAMM) office remains open, wherever I travel to.  This is through end of August 2019.
Rev. Fred Nielsen will be in Dillingham soon, also, to assure that UAMM finances remain in order. Pastors, needy UAMM friends in 12 countries around the world. We are still with you prayerfully and willing to help anyway we can. Keep in touch!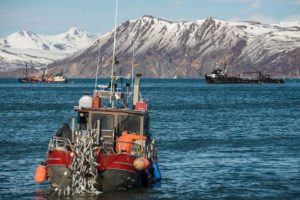 Thank you Bryan Hunter for sharing this photo of my fishing vessel, the FV Earl, today.  
I'm leaving for Dillingham tomorrow, May 24, 2019, to ready fish cabin on land and boat from which I earn money to live and work as a full-time clergyman. Shown is FV Earl three or four years ago. God has always blessed the fishing trips!  Praise His name!
Every year is different, a challenge, but somehow it always works out for the good. Over 51 seasons as a captain.